Basic Page Sidebar Menu Penn FRC
The Family Center is committed to supporting students and postdocs with children during this challenging time. We are working with campus partners to provide opportunities for virtual engagement to help you stay connected. 
This web page will be regularly updated with virtual programming for parents and families during the COVID-19 pandemic. 
To contact staff please email familycenter@upenn.edu.
Have an idea for a virtual program or resource to promote community building?
Know of an existing program or resource you would like us to highlight on this page or on social media? Email us at familycenter@upenn.edu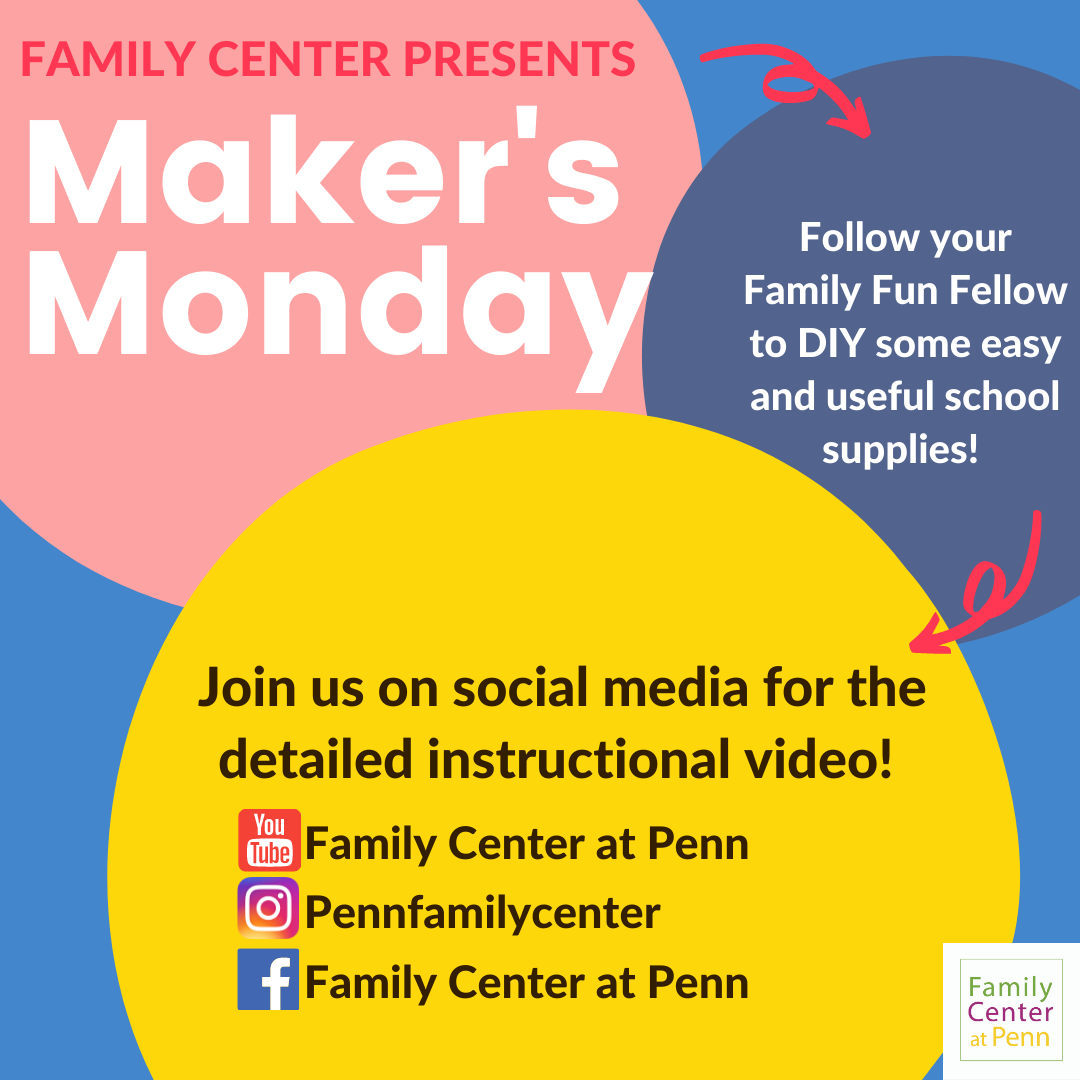 Follow your Family Fun Fellow, Bess, to DIY some easy, fun, and useful sch0ol supplies with materials you probably already have at home!
Detailed and personalized instructional videos are posted on our YouTube Channel, Facebook at Penn and Instagram for the full video! 
In partnership with the Penn LGBT Center, Philadelphia drag queen VinChelle will read two children's books for our virtual Drag Queen Story Time! VinChelle reads two books: Julián is a Mermaid by Jessica Love and My Princess Boy by Cheryl Kilodavis. 
Click here to view: Drag Queen Story Time Video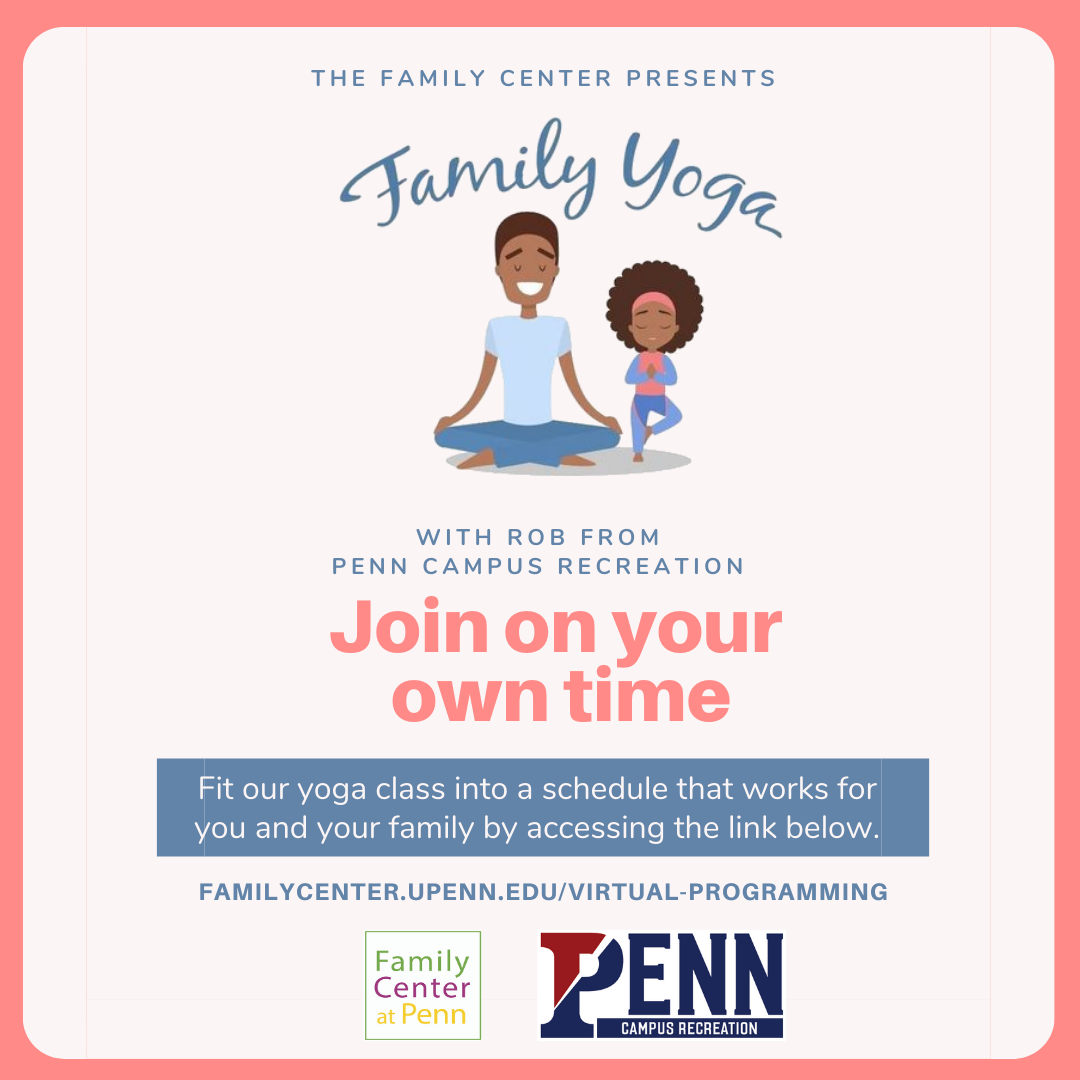 We partnered with Penn Campus Recreation to share a virtual family yoga class, lead by yoga instructor Rob. At even the earliest weeks of life yoga can assist with sleep, digestion, and fussiness as well as build strength and coordination. 
This video is for parents and children, children of all ages are welcome to learn some yoga poses. 
Click here to view: Virtual Family Yoga session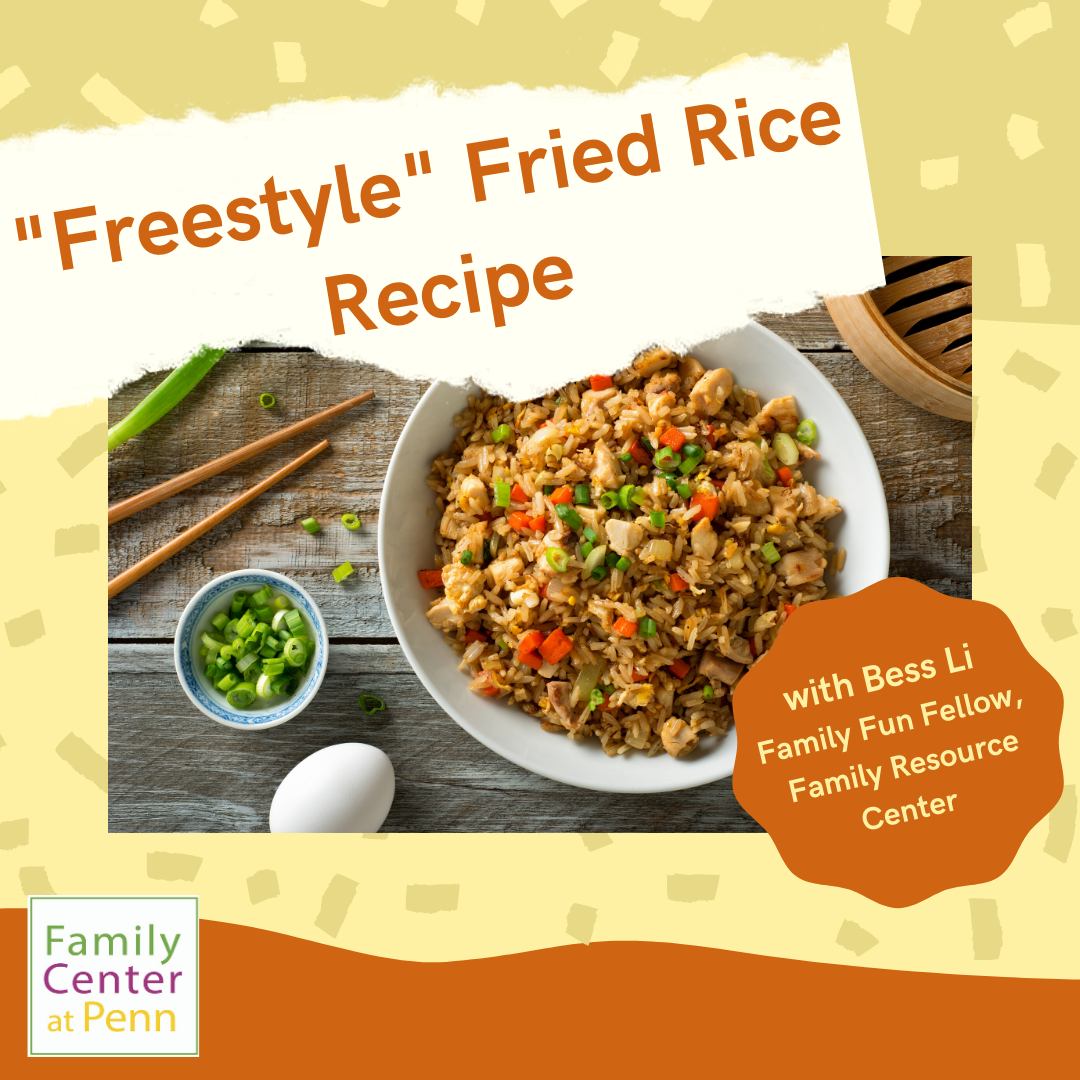 Hello! It's Bess, your family fun fellow here. Today, I will teach you how to cook my favorite meal— "freestyle" fried rice! Growing up with my grandma, we always had fried rice as our go-to dish for breakfast, lunch, or dinner. My grandma would go through the fridge to find bits and pieces of ingredients, chop them up, and add them to the fried rice. It's quick, easy, delicious and a great way to clean out your fridge. Neither me or my grandma are great cooks, but fried rice is always the taste of home and nostalgia for us. Please enjoy watching this cooking video and try it out on your own! Remember to take a picture of your version of fried rice and tag us on social media. We would love to hear from you! 
Click here to view: Freestyle Fried Rice Recipe Video ​
Additional Virtual Content
Science Saturdays
Simple step by step science experiments to do as a family. 
Check out our Facebook and Instagram for Science Saturdays posts.
Virtual Wednesday Adventure Time and Virtual Field Trips
Follow along as our Family Fellows guides you though fun online activities and virtual museum tours!  
Check out our Facebook and Instagram for Adventure Time and Field Trip posts
Virtual English Lessons 
Beginner Lessons: Tuesdays and Thursdays 9AM-10:30AM ET
Intermediate Lessons: Tuesdays 9AM-10:30AM and Thursdays 9PM-10:30PM ET
Advanced Lessons: Mondays 9PM-10:30PM and Fridays 9AM-10:30AM ET 
Spring Semester Registration now open! Visit: www.familycenter.upenn.edu/events to sign up for lessons, space is limited.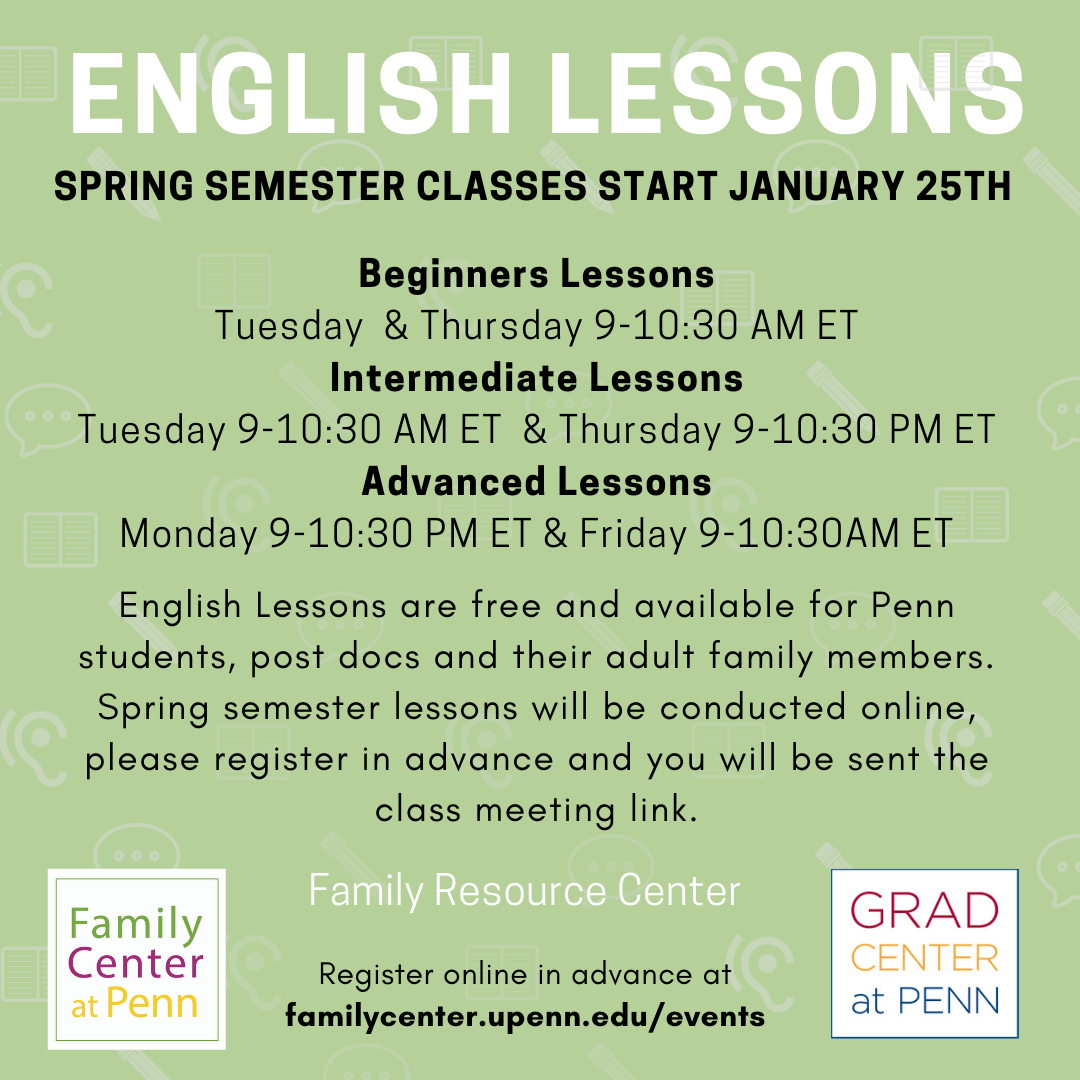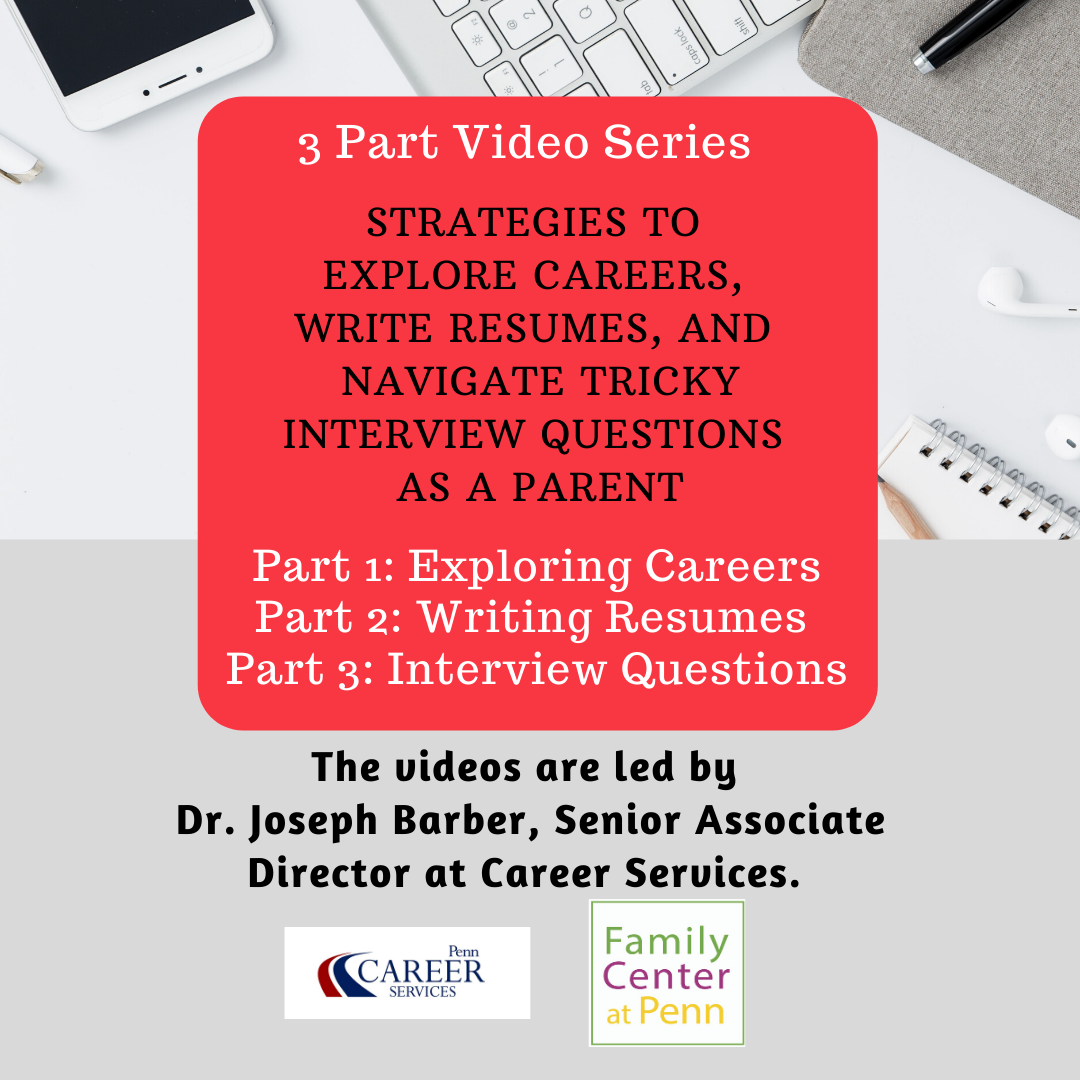 If you are a student/postdoc parent, or prospective parent, and are interested in learning about how to identify family-friendly future employers, how to address possible experience gaps in time in your CV or resume, or whether to bring up being a parent in an interview?
The videos are presented by Dr. Joseph Barber, Senior Associate Director from Penn's Career Services. This video series is a partnership between The Family Center and Penn Career Services. 
They provide actionable advice on networking, informational interviews, resume tips, and interview strategies, along with information on career-relevant resources you can access as a Penn student or postdoc. 
​
To view the videos click the links below:
Part 1: Exploring Careers​​​​ 
Part 2 : Writing Resumes​​ ​
Part 3: Navigating Tricky Questions​​​​​​​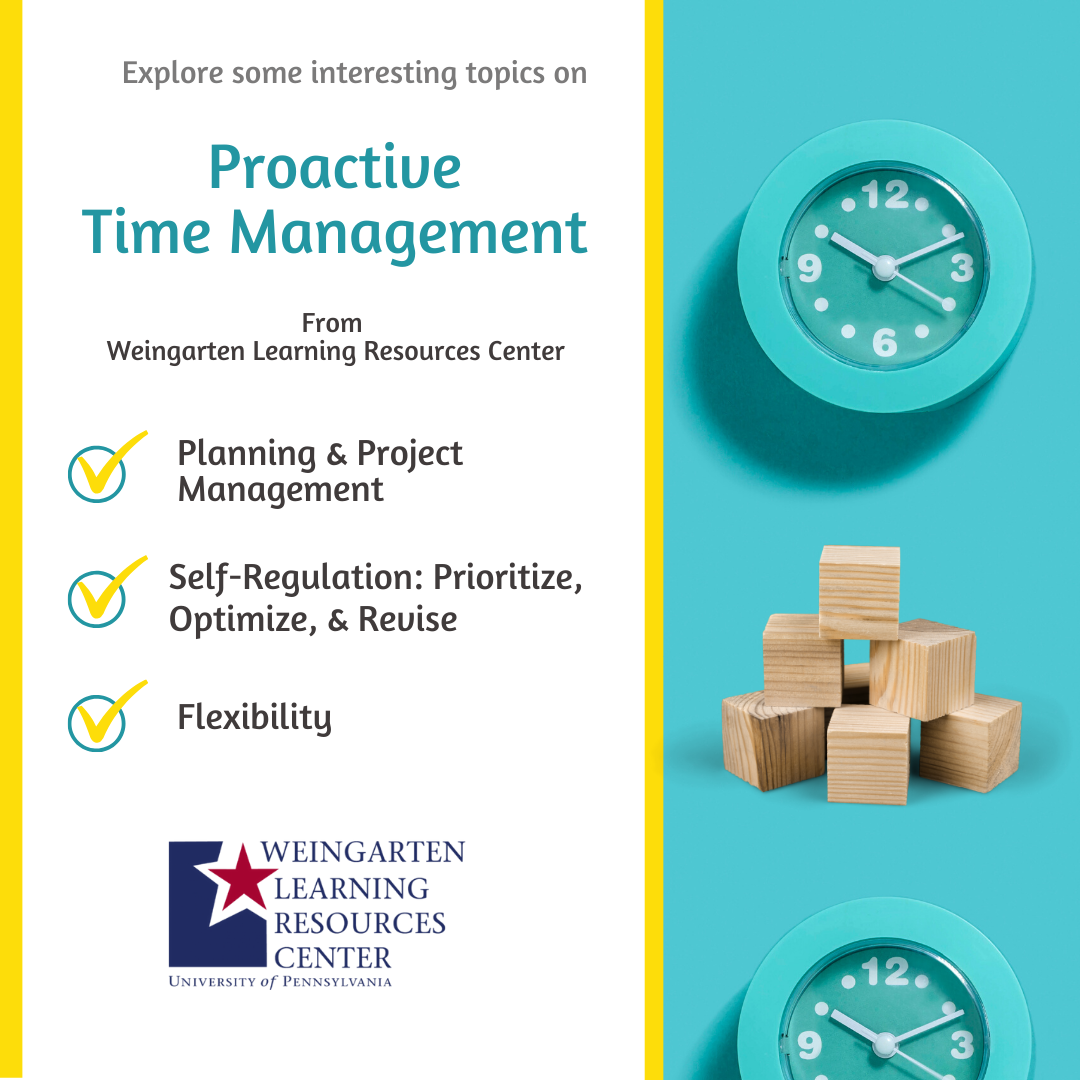 Check out these videos from Weingarten Learning Resources Center. 
How to break down large projects or study plans into manageable tasks: https://www.vpul.upenn.edu/lrc/lr/planning​
Self-Regulation: how to Prioritize, Optimize, Revise: https://www.vpul.upenn.edu/lrc/lr/selfregulation​
How to be flexible when circumstances change: https://www.vpul.upenn.edu/lrc/lr/flexibility​​
Weingarten Learning Resources Center Tips for Student Parents
Check out some tips on how to plan for an exam session with a young family from Dr. Rashmi Kumar, Associate Director of the Office of Learning Resources at Weingarten Learning Resources Center​.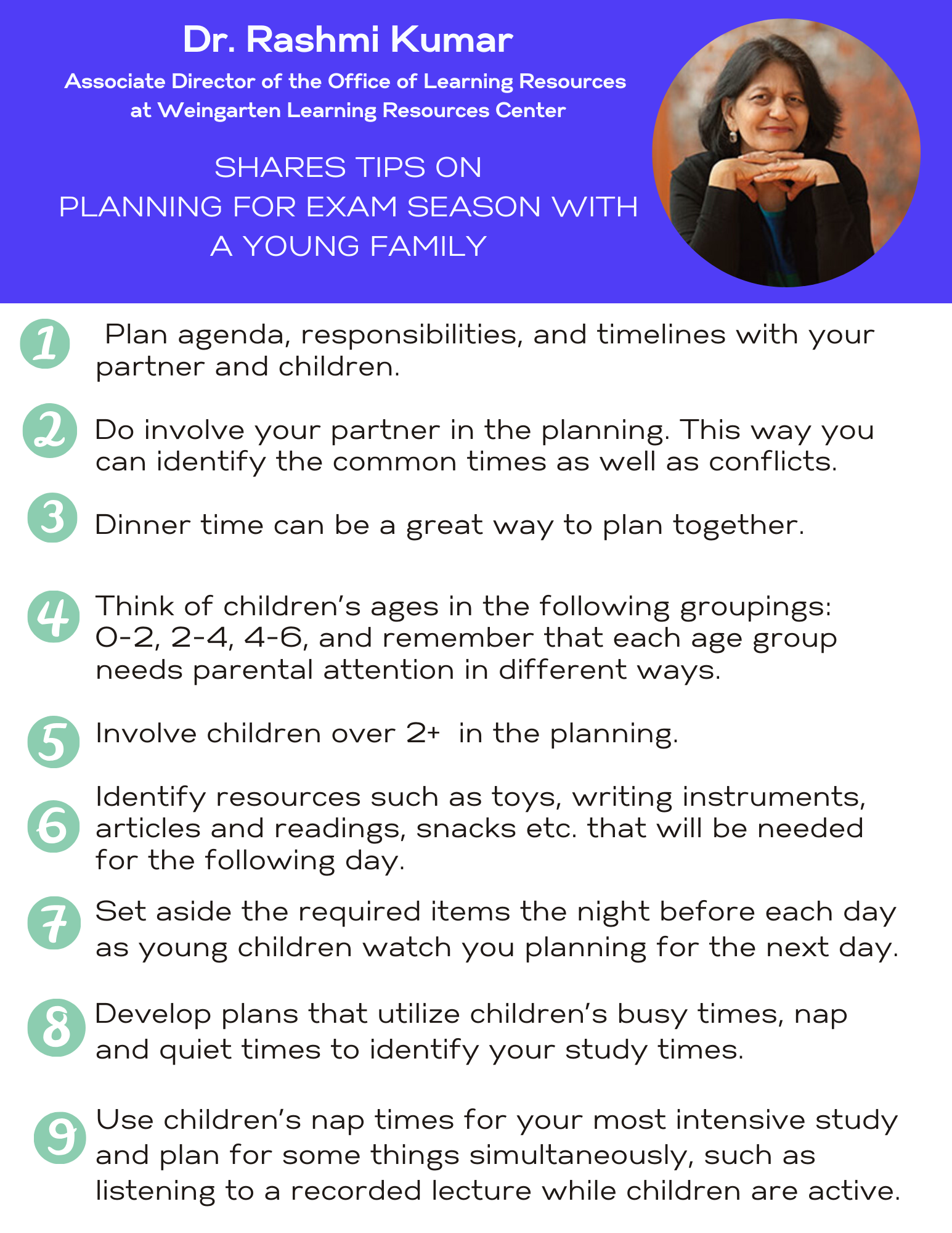 Virtual Lactation Discussion Group
Tuesday February 23, 12pm
Register: https://www.supersaas.com/schedule/Wellfocused/Lactation_Resource_Group
This interactive conversation, led by Dr. Diane Spatz, Professor of Perinatal Nursing and Helen M. Shearer Term Professor of Nutrition; Nurse Researcher, Director, Lactation Program; and Director, Mothers' Milk Bank, The Children's Hospital of Philadelphia, will provide an opportunity for expecting, new, and experienced parents on campus, to get help with lactation challenges, ensure a smooth transition back to work and academics and share helpful tips with one another. If you are breastfeeding, chestfeeding, pumping and bottle-feeding, pregnant and thinking about breastfeeding, formula-feeding and curious about breastfeeding, this conversation is for you. This event is open to UPHS and University faculty, staff, students, post docs and their partners. Please register in advance.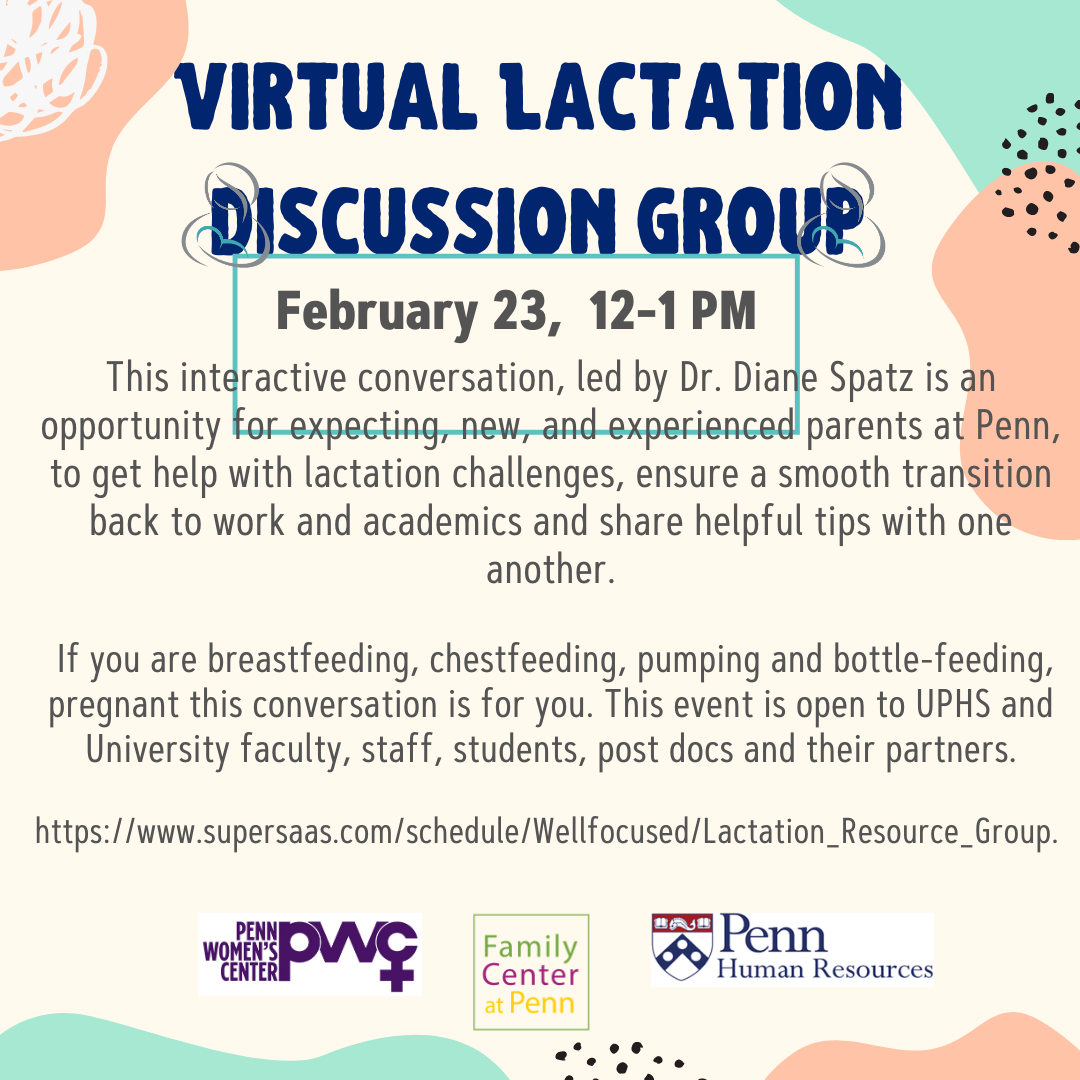 Introduction to Personal Finance: Family Edition
Wednesday, March 3 12pm-1pm EDT
Along with Financial Wellness @Penn, the Family Resource Center will be hosting "Introduction to Personal Finance: Family Edition." This session will cover general principles on financial goals, monthly budgeting, debt management, savings, and investments with a focus on personal financing as student- and postdoc-parents. Resources, tools, and tip sheets will be provided so that you can determine how to best address the specific needs of your family. The event will be recorded and uploaded to the Family Center website for those unable to attend. Please register in advance at: www.familycenter.upenn.edu/events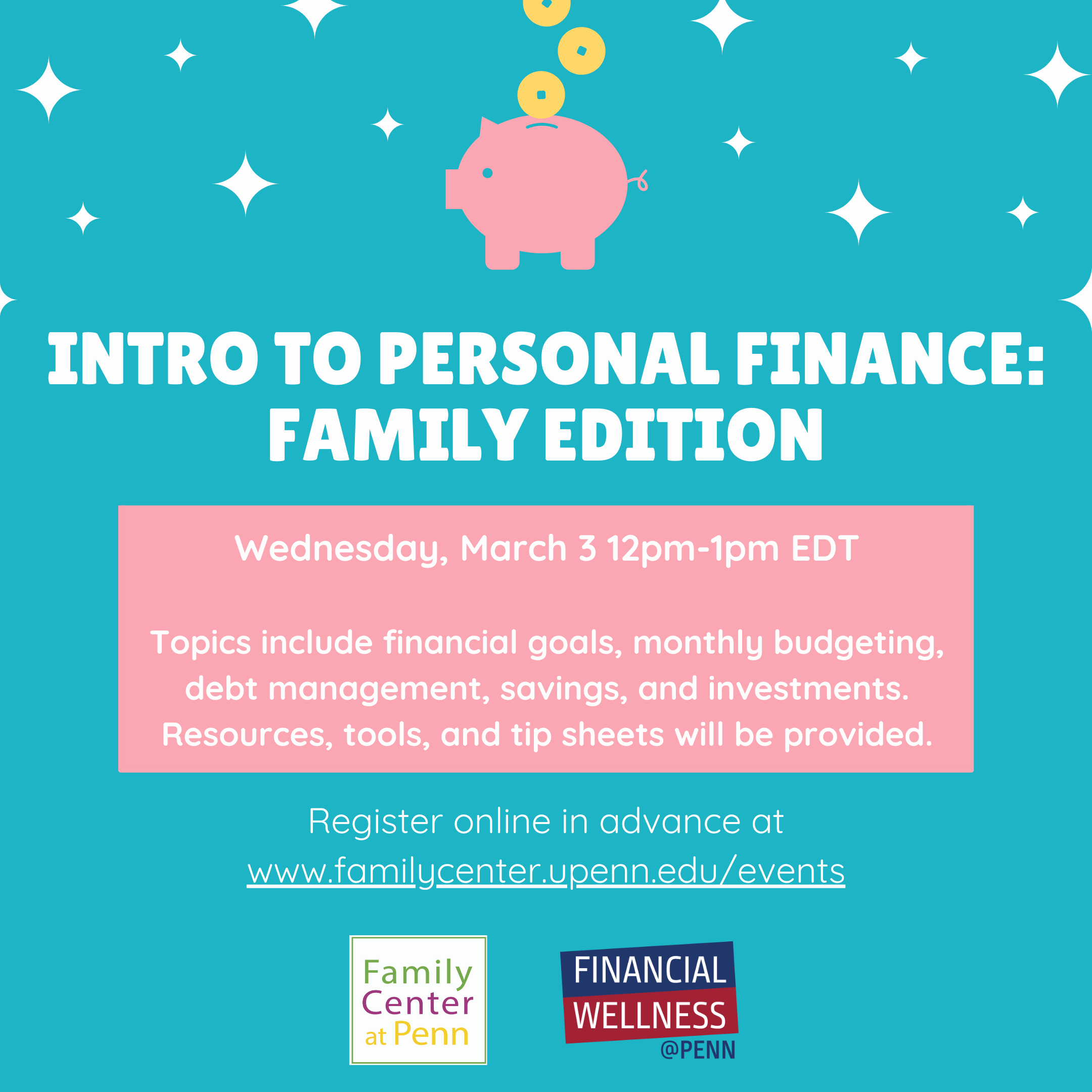 Ask an Expert: Parenting in Uncertain Times, a Virtual Panel Discussion
Access the Panel Discussion Recoding on our YouTube Channel.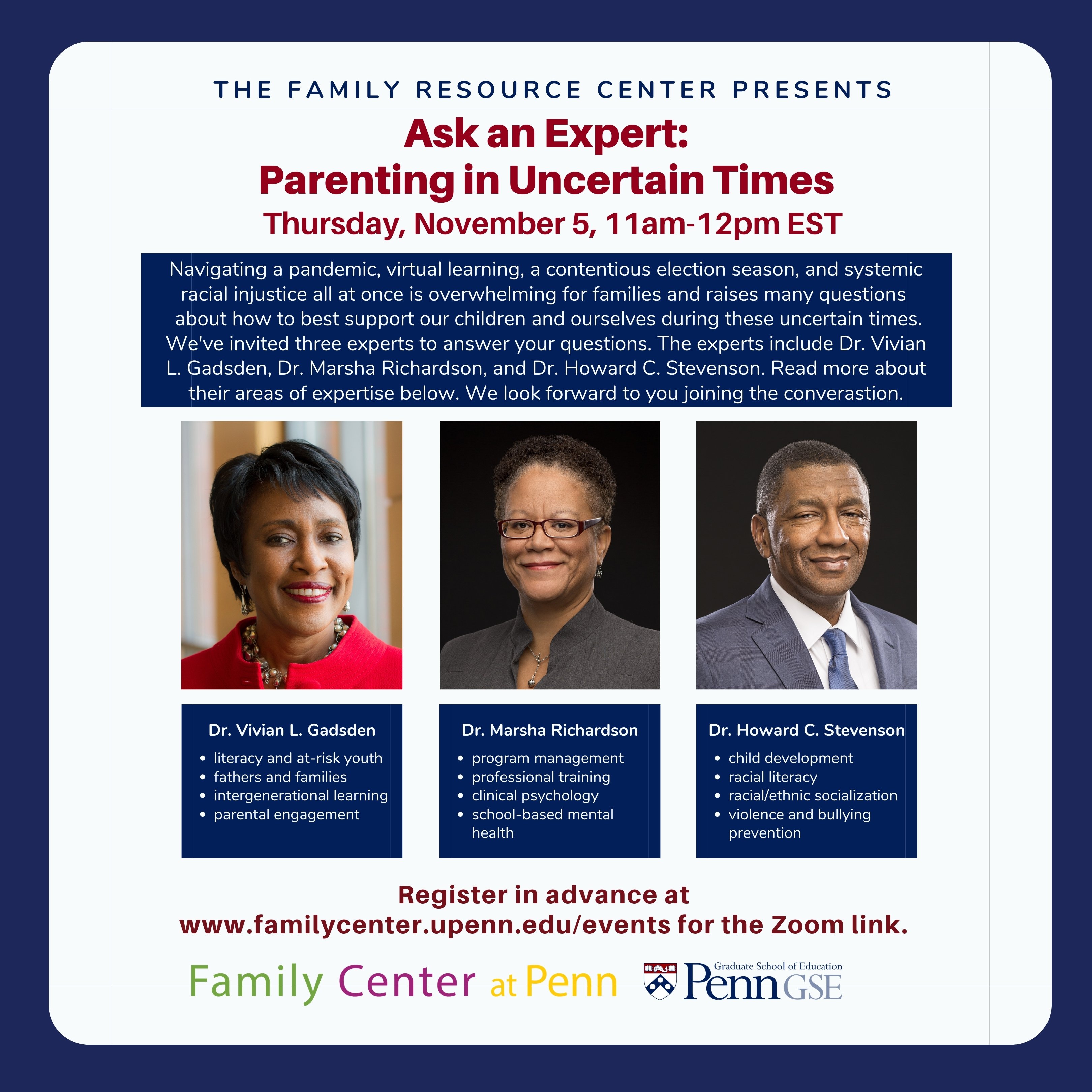 Virtual Mindful Parenting Workshop
Access the workshop recording on our YouTube Channel.